Asking yourself Where to sell your gold jewelry!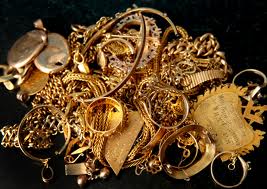 Need cash fast? Have some gold to sell? There's no need to stop by those "Cash for Gold" spots popping up in the strip mall. Visit Atlantic Coin & Jewelry Exchange Cash for Gold in Voorhees, NJ and see how we're different. We will sit with you to cordially and thoroughly discuss terms with no obligation to sell. You can rely on us for the best prices in South Jersey, or even just a fair, complimentary verbal appraisal.
Our Gold Buying Process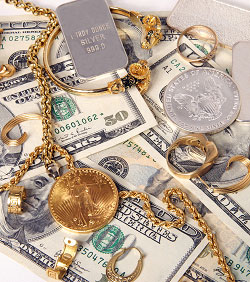 If you have gold jewelry that's broken or out of style, it can still be worth a lot of money depending on its weight. Gold items can turn out to be worth $300, $700, and even as much as $5,000 or more. We at Atlantic Coin & Jewelry Exchange Cash for Gold have a quick and easy appraisal process so that you needn't mail your gold off to some mysterious party that might not give you its true value. We determine the karat of each piece with an acid test (i.e. 10kt, 14kt, 18, etc.), place each karat in a group, and weigh them. We then calculate a price based on the day's New York Spot Gold Index. Based on that, we pay you cash on the spot. Rest assure that we also take in account any diamonds your piece may have, we also pay a premium on designer items. It's that simple! The price of gold continues to remain high, and so does our customer satisfaction.
Give Us a Call Today With Your Questions
All you need is your old or unwanted gold items, and we can help you while you observe.
Call or visit us today at our Voorhees, NJ location.